September 15, 2023 2:02 pm
Leave your thoughts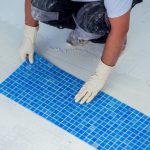 When it comes to retiling your pool, it's essential to consider new and innovative designs that can transform your backyard oasis. The right tiling pattern can make a significant impact on the overall aesthetics of your pool area, creating a fresh and inviting ambiance for family and friends to enjoy. In this blog post, we will explore some exciting pool tiling patterns that you can incorporate into your pool renovation project.
1. Mosaic Madness:
Mosaic tiles are a timeless and elegant choice for pool tiling. However, you don't have to stick to the traditional patterns anymore. Nowadays, you can find mosaic tiles in various shapes, sizes, and colors. Consider opting for a bold geometric pattern that adds a modern twist to your pool design. Or, if you prefer a more whimsical look, mosaic tiles with nature-inspired patterns like leaves or shells can bring a touch of enchantment to your swimming area.
2. 3D Illusions:
For those looking to add a touch of depth and dimension to their pool, 3D tiling patterns are a fantastic choice. These tiles create an optical illusion, making your pool appear larger and more dynamic. Choose a 3D tiling pattern that mimics waves or ripples to create a sense of movement in your pool. This unique design will create a mesmerizing visual experience for swimmers and enhance the overall atmosphere of your outdoor space.
3. Striking Chevron:
If you want to inject some contemporary flair into your pool, consider a chevron tiling pattern. Chevron is a zigzag pattern that can transform your pool into a stylish and visually appealing area. Opt for tiles in contrasting colors, such as black and white or light and dark blue, to make the chevron pattern pop. This modern design creates a bold statement while still maintaining a classic vibe, perfect for those who love the best of both worlds.
4. Underwater Art:
Why not turn your pool into a work of art with underwater tiling patterns? This innovative trend allows you to create stunning designs beneath the waterline. From intricate mosaic fish or vibrant coral reefs to abstract patterns inspired by famous art movements, the choices are endless. Underwater art tiling patterns are not only visually captivating but also provide an immersive experience for swimmers, making every dip in your pool feel like a magical adventure.
Work With Can Do Plaster Crew
Now that you've discovered some fascinating pool tiling patterns, it's essential to have a reliable and experienced team by your side to bring your vision to life. Can Do Plaster Crew is here to assist you with all your pool renovation needs. With years of experience in the industry, we have the expertise and skills required to transform your pool area into an oasis you'll love.
Our team of professionals will work closely with you to understand your preferences and guide you through the selection process. We can help you choose the perfect tiling pattern that complements your overall pool design while ensuring durability and longevity.
Not only do we provide exceptional craftsmanship, but we also use premium materials and the latest techniques to guarantee the highest quality of work. We are dedicated to exceeding your expectations and delivering outstanding results that will enhance your pool's beauty and functionality. Contact us today to learn more about what we can do for you!
Categorised in: Pool Design
This post was written by admin